Testimonials from our Clients. "The experts"
Sile Seoige: "Natalie created such a lovely relaxed atmosphere on the day of the photoshoot from beginning to end it was full of fun girly chats, tons of tea and treats , really interesting set ups and lots of different looks. It really was the best craic …I'm looking forward to the next shoot already"! (Makeover Portrait session)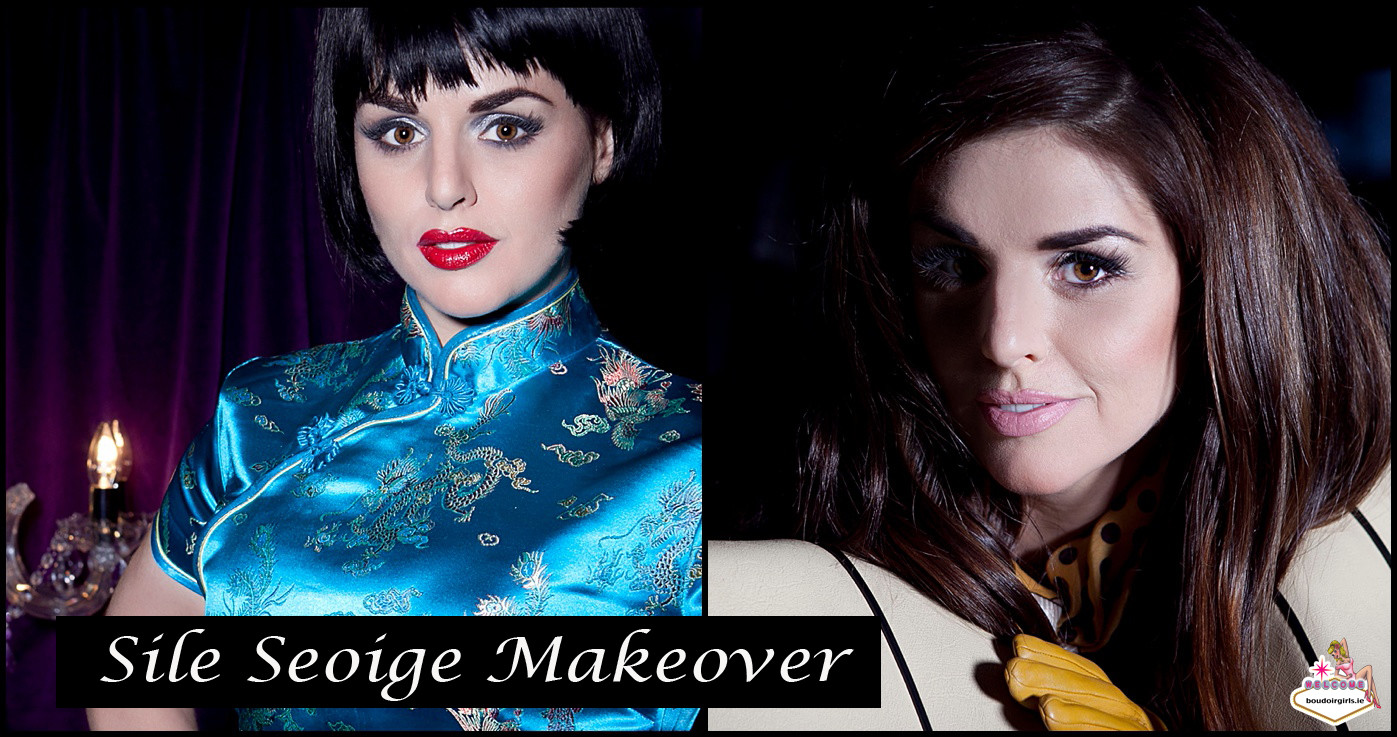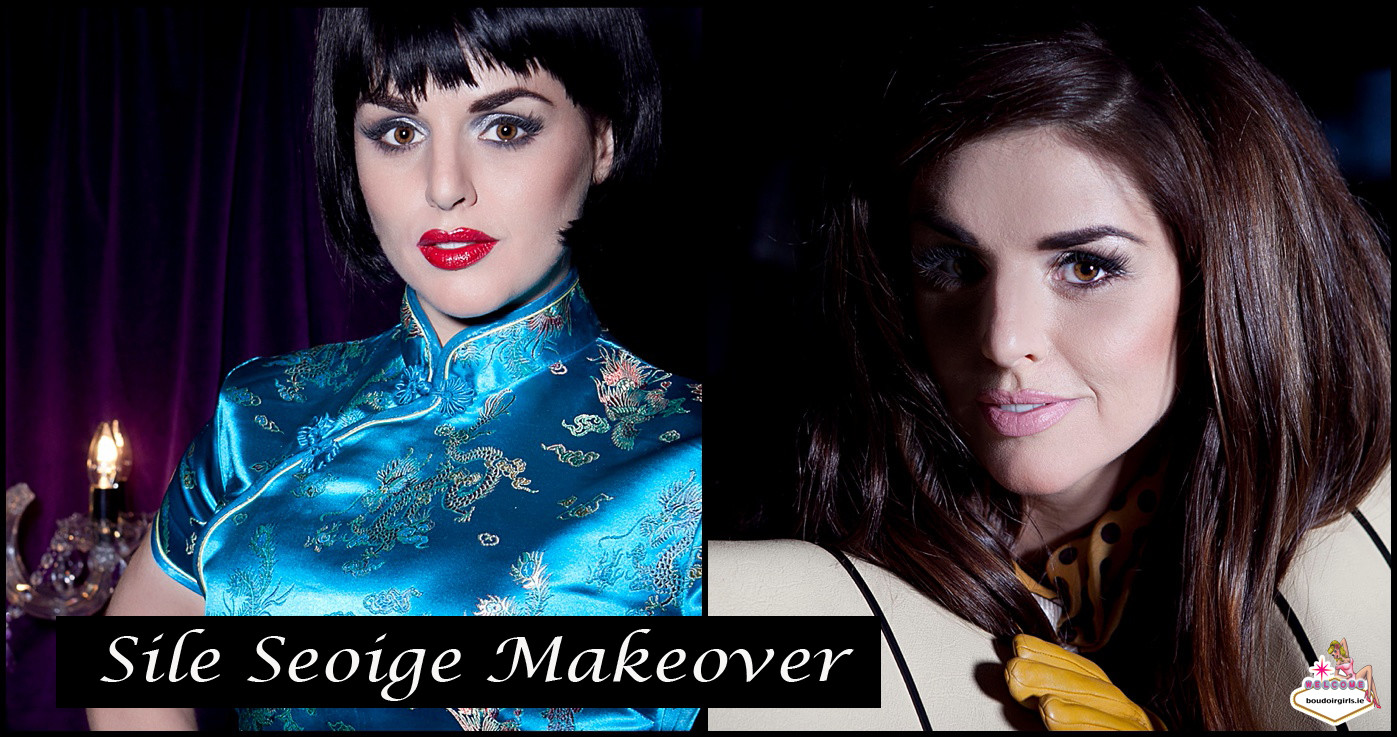 To the fabulous & glamorous Natalie Greer At Boudoirgirls, we cannot thank you enough for adding such special touches to our sisters 'Breakfast at Tiffany's' themed hen last weekend! Thank you for making all the lovely ladies feel at such ease & for adding to the occasion with your excellent prop's & creative ideas! Your enthusiasm & energy permeated throughout the room and made the experience all the more fun! We are thrilled with the results & delighted that we have such special memories of the day! Here's hoping we have another opportunity to work with you again soon. A million thanks, Sharon Stephanie De Paor & Siobhan De Paor xxxxx(Breakfast at Tiffany's hen party in the G Hotel Galway)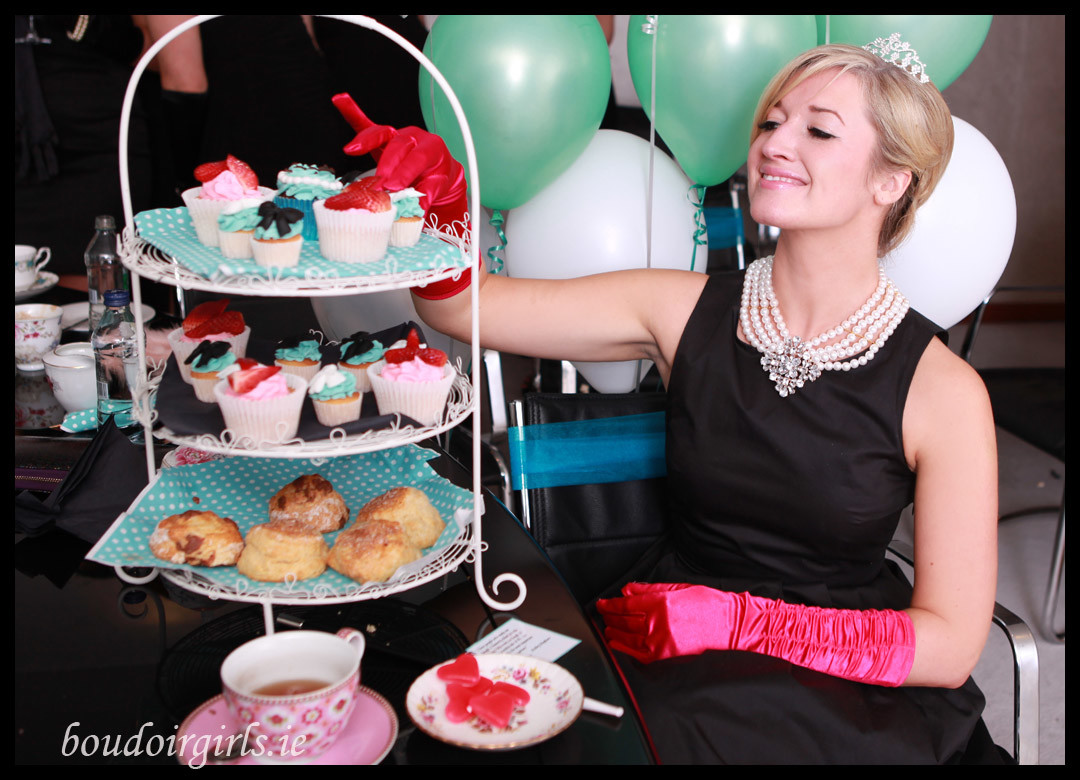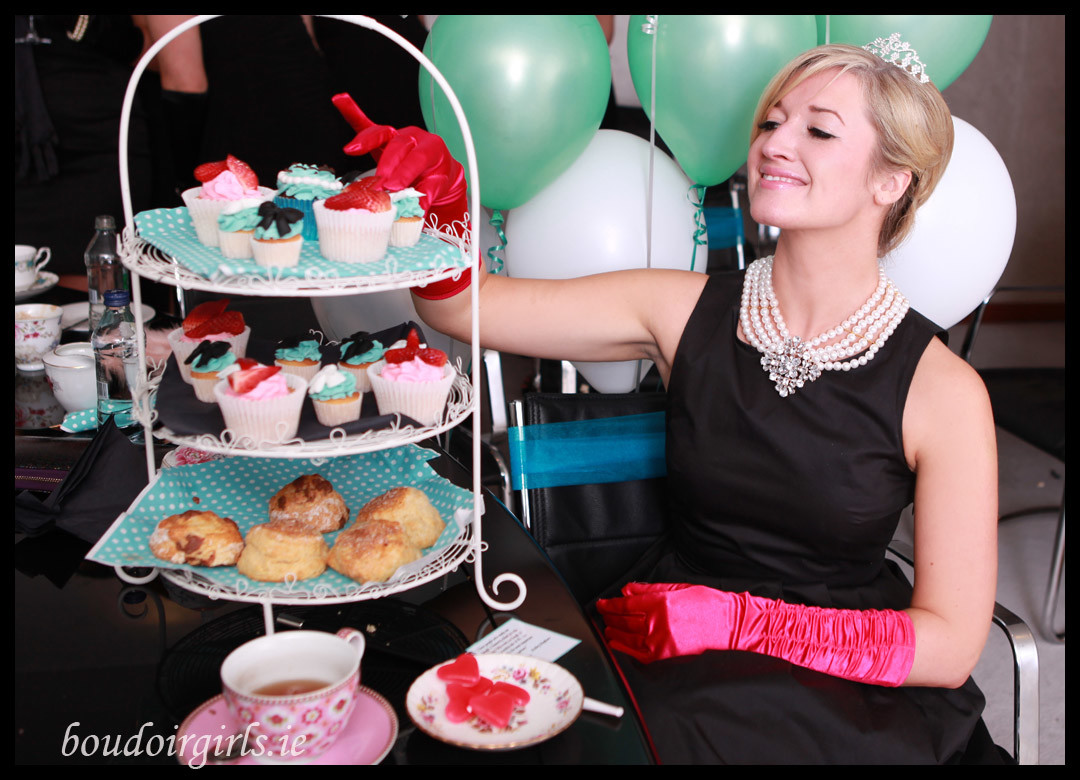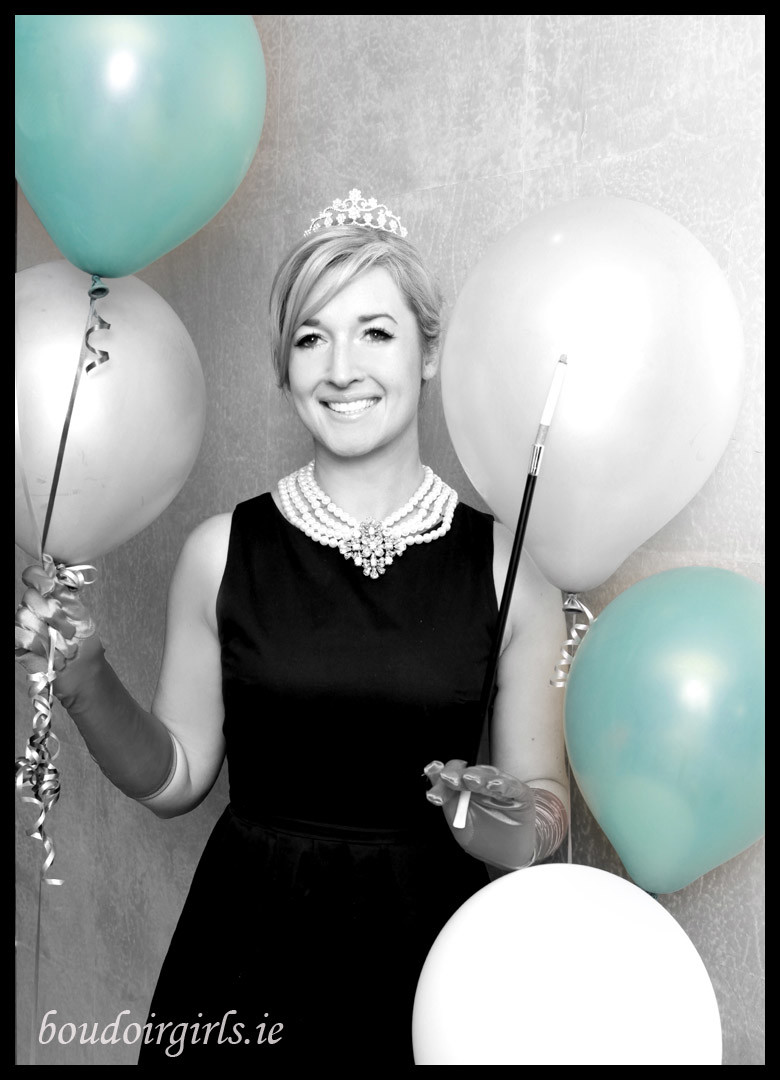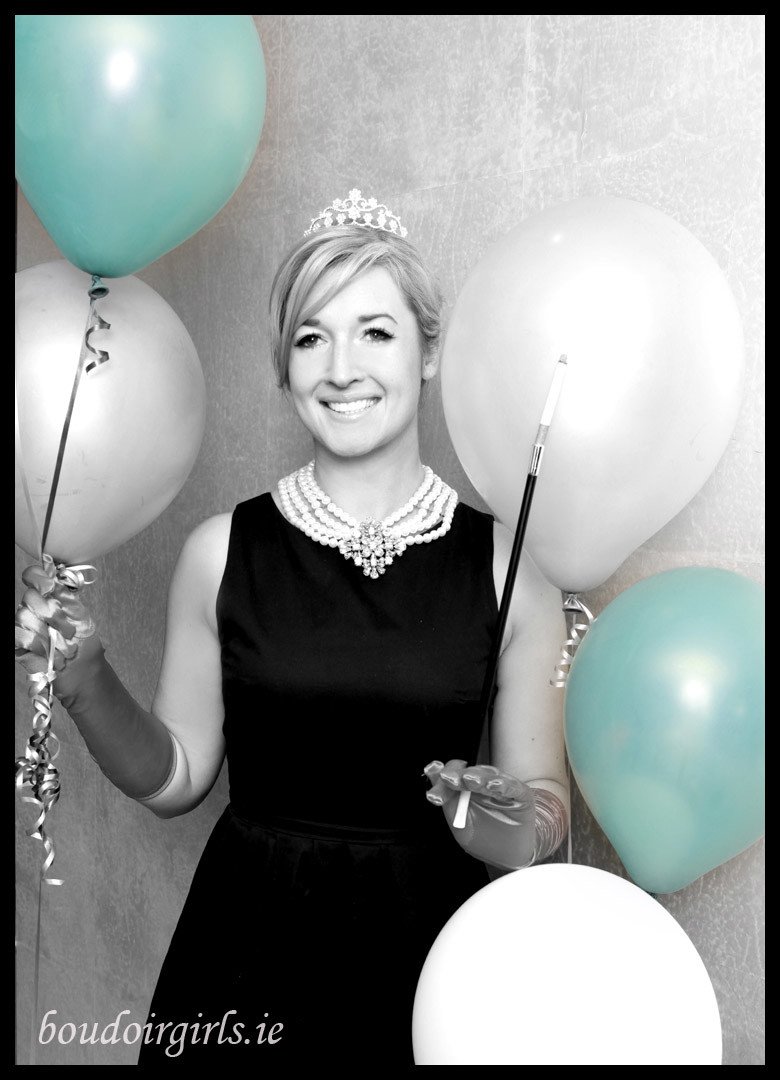 Thanks Natalie and co for the fab photo shoot for my sisters hen party at the weekend!! Ye were amazing, very friendly, professional and helpful. Ye did an amazing job at making us all look fab!!I would recommend ye to anyone thinking of having makeup/ photo shoot done, we all really enjoyed it, it was very relaxed and great craic!! Thanks again ye were all so lovely!!Hillary Fallon, (Carrick on shannon Hen / Glam makeover session) 
 Natalie Greer At Boudoirgirls thank you so much for those pictures they are amazing, i know i was nervous doing it but you were great, put everyone's mind at ease and i know all the girls had a great time 🙂 thanks again xx Jessica Carrick on shannon / Courtyard package (Fairytale Disney hen!)


Before I get bogged down in wedding madness I just wanted to send a quick note to say THANK YOU SO MUCH for Saturday. The day was even better than we could have hoped for & all the girls were so happy with their makeovers & needless to say you brought out the poser in all of us! Everyone was raving about how nice you were & your effortless ability to put us at ease. We really enjoyed ourselves and love the pictures so much. I wish you & your business every success in the future. Best Wishes, MaryRose (Glamorous makeover at the G hotel Galway)
Thanks Natalie Greer At Boudoirgirls for a wonderful day with you…everyone enjoyed it so much! X X XLynda Hope, Stock exchange hen party Galway 80's theme!
Thank you so much Natalie the 1920's photo shoot at my hen was great fun & very professional!! Everyone had a great time & are enjoying the photos!! You put everyone at ease & made us all feel very relaxed. A great idea for hen parties!!!! Thank you!!!!! 😃 (pics below)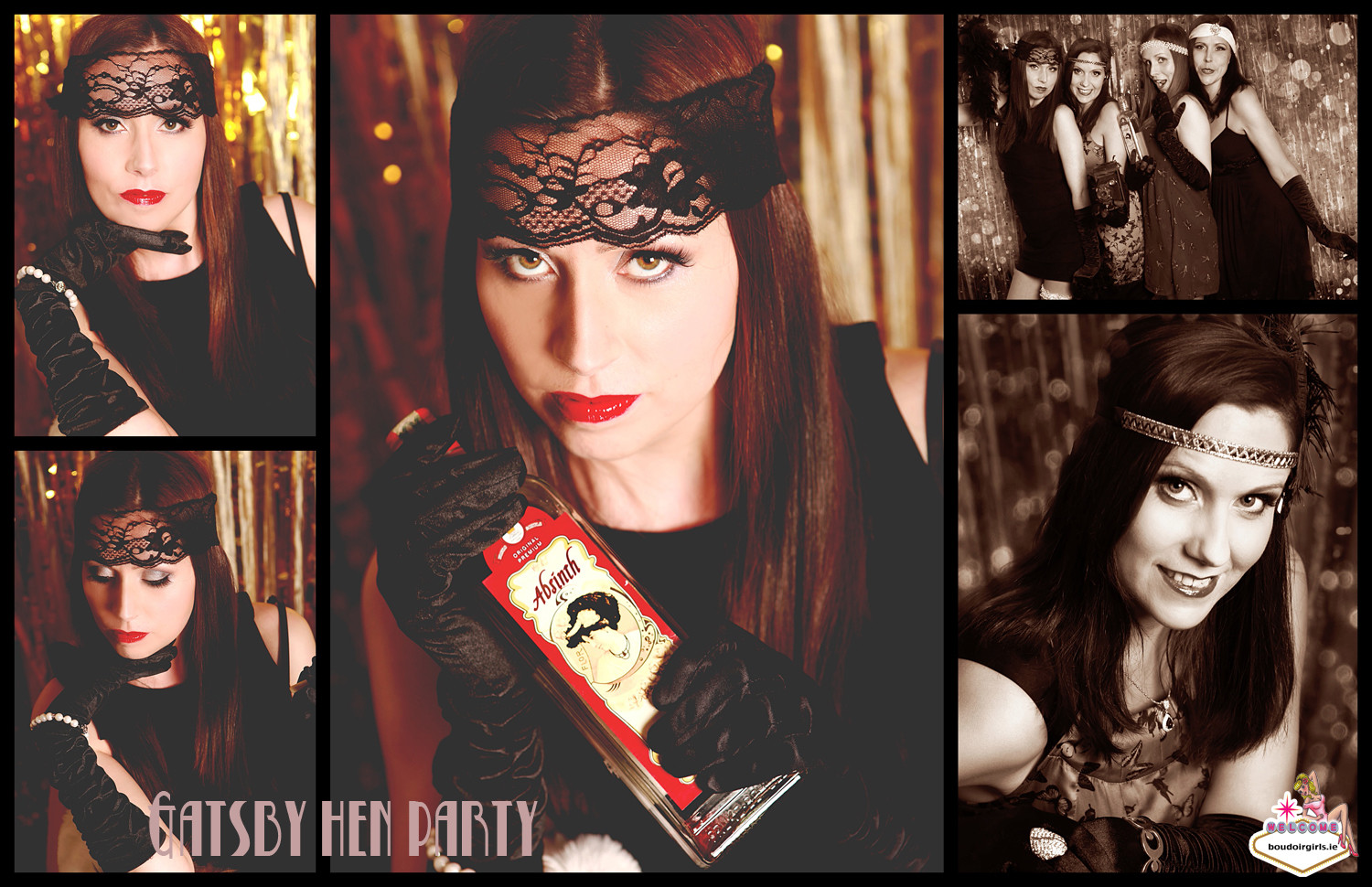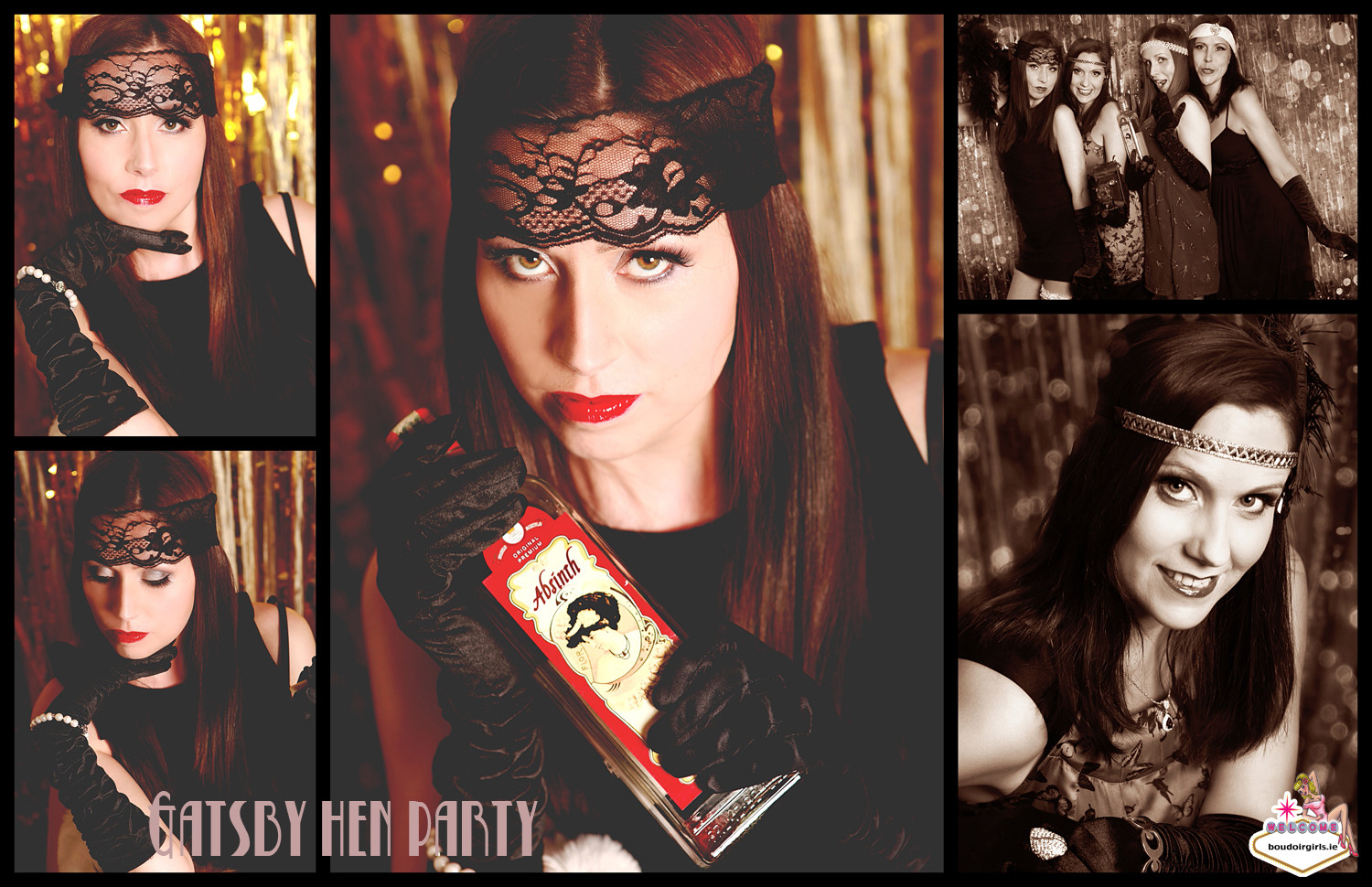 I recently arranged a 1950's themed hen for my sister; there were 14 of us in total and ages ranged from 25-57 years! We decided as part of the activities we would have a vintage photoshoot and makeover. I came accross Boudoir girls on Google and decided to go with this based on the cool photos featured on the website.
Natalie and her team's professionalism was amazing, everyone really loved how they looked and enjoyed this as an activity. From an organisers perspective everything was 100% stress free and Natalie made everything really easy from my part. The bride herself had a ball and was delighted with how she looked following her hair and makeup transformation.
Feedback from all was extremely positive and I would recommend Boudoir Girls to anyone I know. It's great fun, great value and well worth doing! Louise, Dublin (Madmen theme below)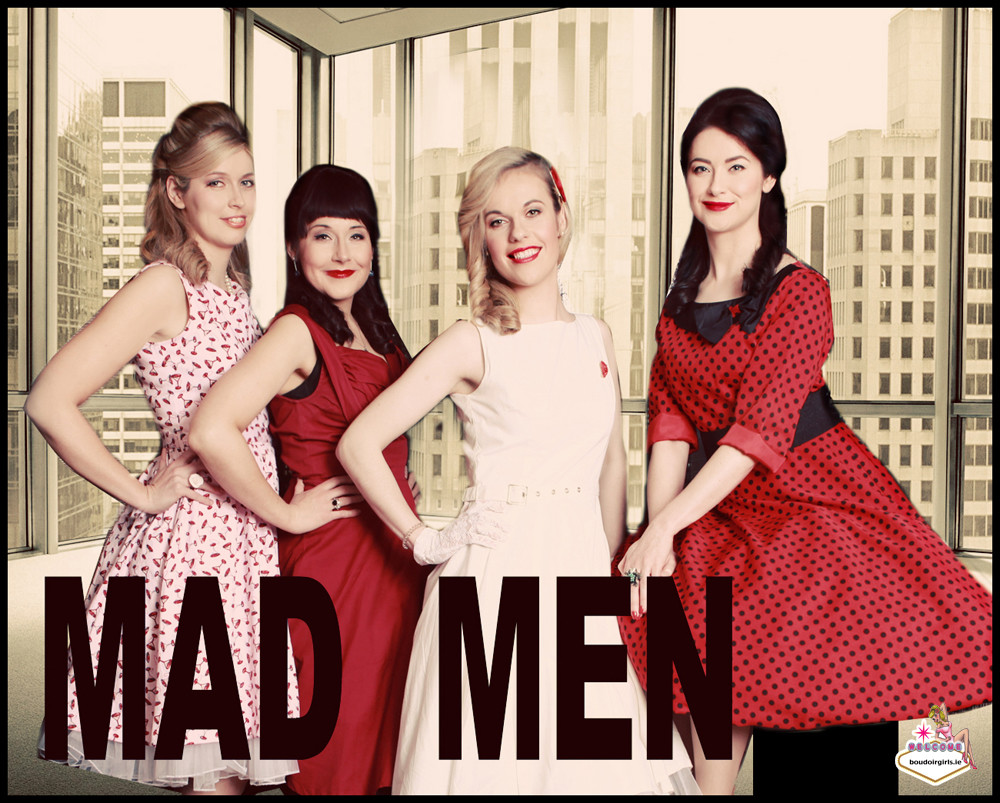 Natalie i got the disc today the photos are just fabulous we are all so happy wit them & its lovely to hav somethin to look to look 4ward to after all the excitement last wk end.
So glad we done it, absolutely brillant experience. (Burlesque Hen party Ardilaun hotel)
Thanks again (Kim, Manorhamilton)
Hi Natalie & Co, Thanks for making my hen so girly & fun in The House Hotel, Galway! It was such a brilliant surprise and soo up my street!
I would highly recomend! Fun Fun Fun!Charlene (Burlesque hen Galway) 
Just want to say thank you soo much for such a fab 'minion' photo-shoot on Saturday July 11th. It was so much fun and so relaxed. From the very first email, it was so straight forward and easy going. We were late for our slot but Natalie just took it in her stride. We had such a giggle doing the shoot. Our bride to be really enjoyed it too 🙂 Boudoir Girls you really have an amazing, professional and fun service!!! Will totally book with you again 🙂 Thanks so much again!! xxx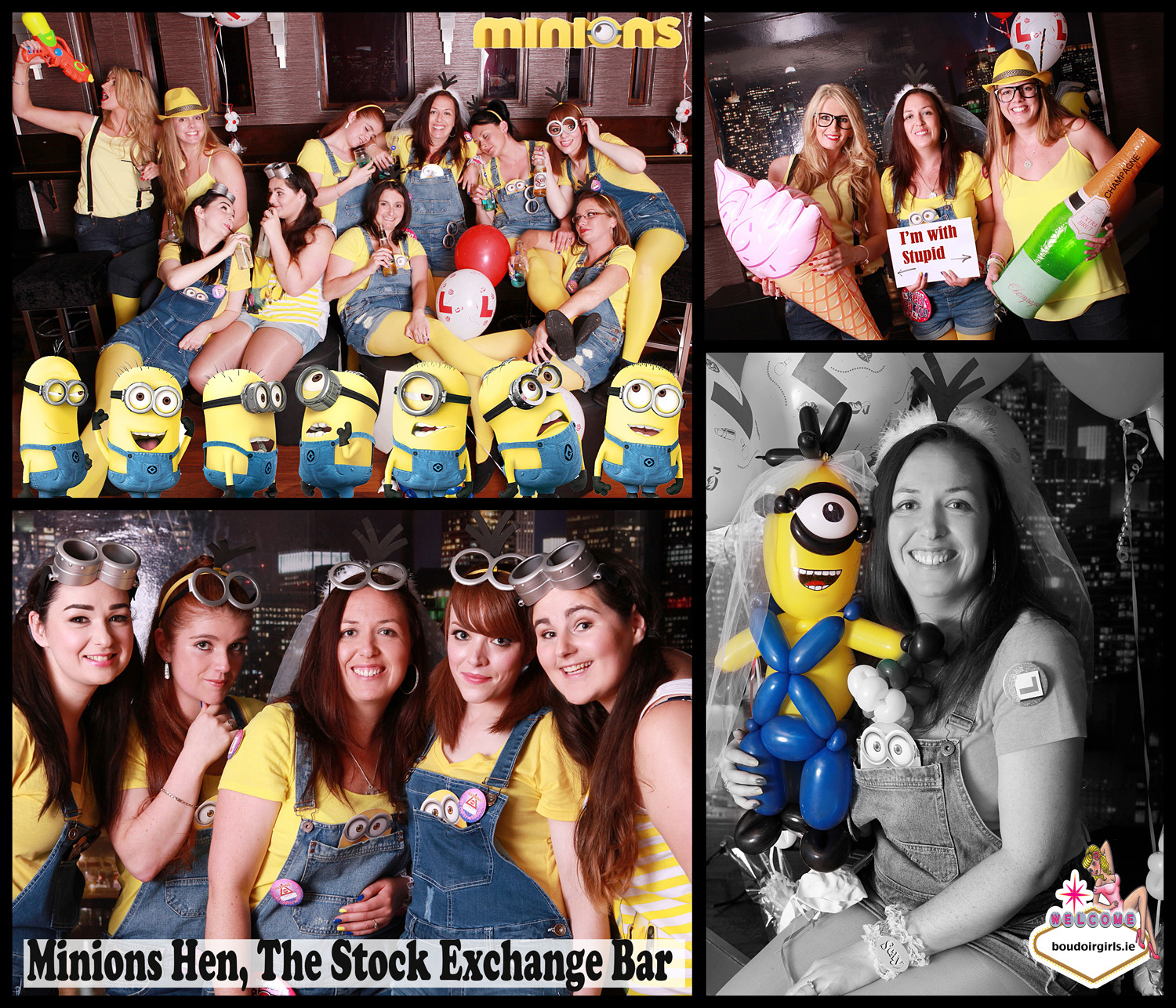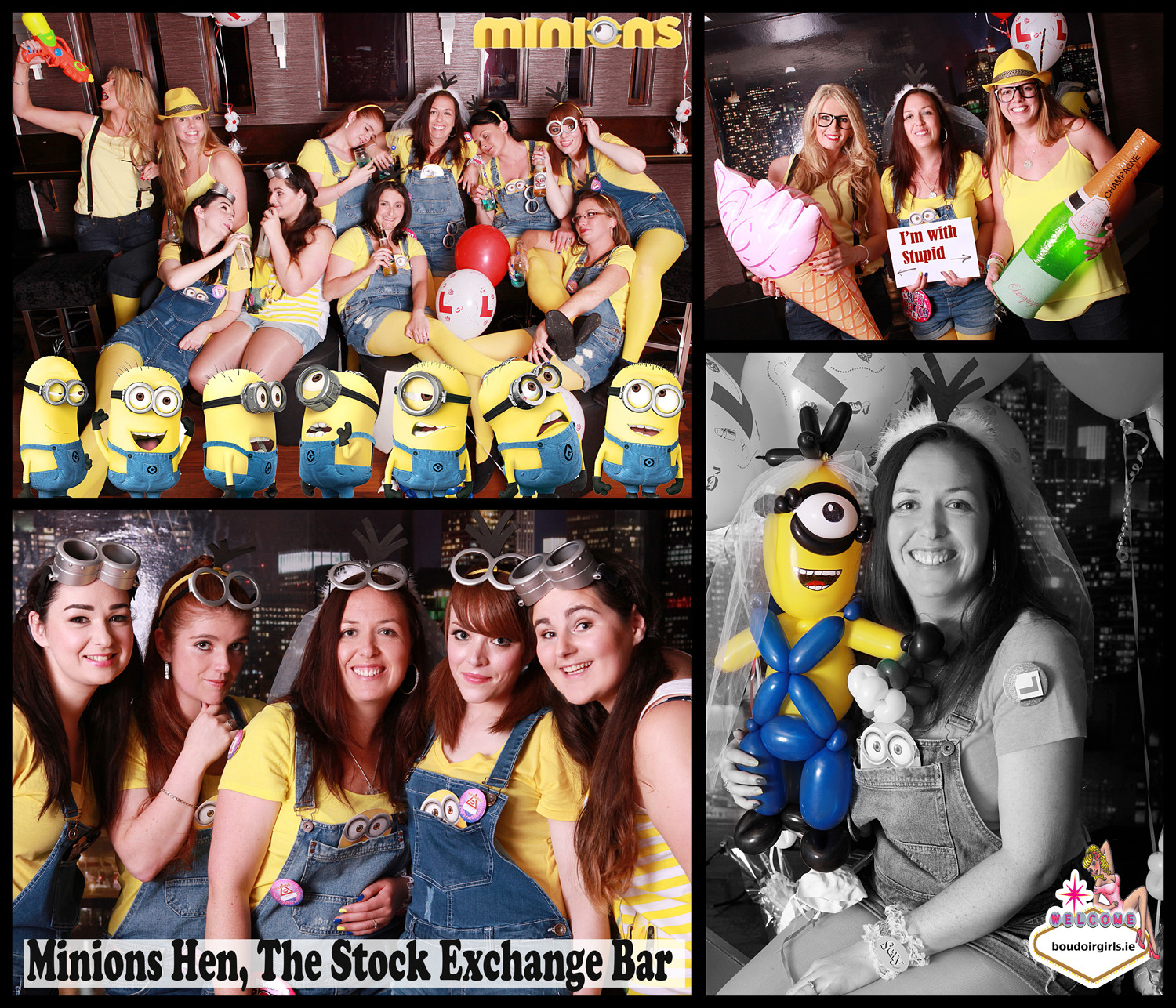 Photos are fan-bloody-tastic!
Enjoyed the wknd sooooooo much 

 !!
(Sarah Kate, Cork) Retro housewives theme – Kenmare.
Thanks a million for a great night for my dear friend Suzy´s hen-night.It was absolutely brilliant, you and your make up artist were really nice and professional and got all the girls to feel relaxed for the shoots.Only heard great comments about the night so fair play to you!I'll deffo book you again! Thanks again!Jenni+ Naas girls
H Hi Natalie , I really can't thank you enough for the photos they are absolutely brilliant! I love them, I've just emailed the girls the link so Im sure they will be over the moon. We had a fabulous afternoon with yourself. Eimear loved every moment.
Aileen,London
Its back to reality now for me after a great Hen Party weekend. The Hen really enjoyed the whole day and its thanks to you. Everyone loved your set up and attitude and the way it all went.I can't thank you enough for being so easy to deal with before the Hen and on the day itself.Anything you need from me please let me know – Im happy to give feedback or be a reference if you ever need that – If there are any other nervous Bridesmaids out there!!!
Debra, Retro Hen Limerick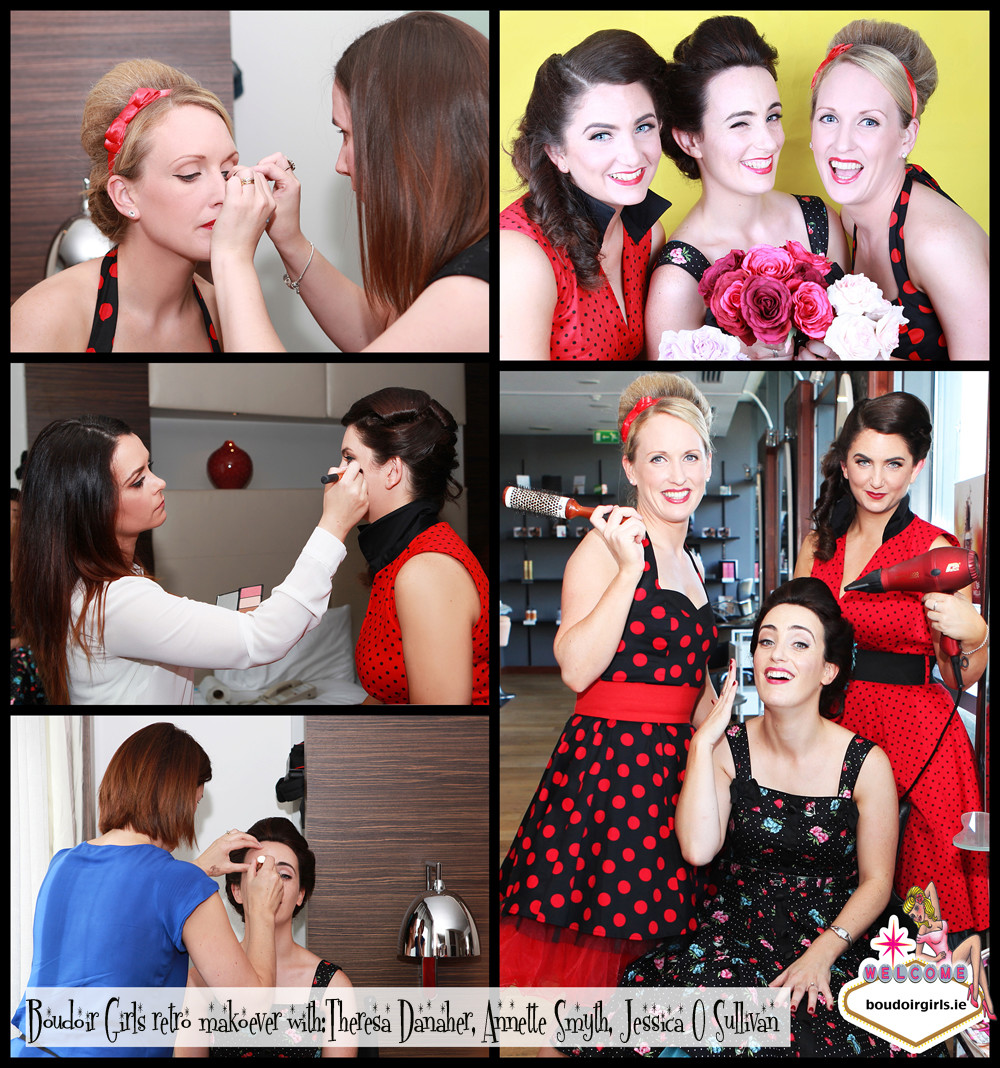 Boudoir and Makeover testimonials…
Here's what the experts (namely our past clients ) say!
Natalie totally exceeded my expectations!This was my first boudoir style photoshoot and i was a little bit nervous as I didn't know what to expect. Natalie was so helpful in correspondence before the shoot and she make me feel very welcome at her studio (which also happens to be her home ..an architectural delight!) The shoot was so much fun and I am delighted with my photos. To anyone who is thinking about booking a shoot with Natalie , go for it! She will make you look and feel like a million dollars! Arlene Caffrey, International Dance artist.
"Had a Photo shoot last week with Natalie at Boudoir Girls based in Headford Co. Galway, decided to suprise hubby with some fun pic's for Valentines Day!!I was so nervous but once I met Nat I was fine she made me feel so much at ease, she took loads of pic's in different outfits, my fav was the Marilyn Monroe and Dita Von Tease look, but you can be who ever you choose, they came out fab I must say I look beautiful, what a real confidence booster.
Thanx a million, Natalie"
(Stephanie, Galway)
"Absolutely delighted with the book the pictures all came out great(thanks to you!)
So professional and the quality of the book itself is outstanding.
Thank you so much both for accommodating me on such short notice and also for creating an atmosphere that helped me relax and get me over my initial nerves.
I would definitely recommend this to girlfriends who are looking to give their other half something a bit different and also it was a great confidence boost for myself.
His reaction said it all:) "
(Aoibheann, Co. Galway)