Boudoir Photography, Hen party activities | Hen Party ideas| Birthday Party Photoshoots | Makeover Galway .
We are a Multi Award winning Irish family run company. Our mission is to help you have fun in front of the camera while creating timeless images for your hendo , boudie shoot or birthday!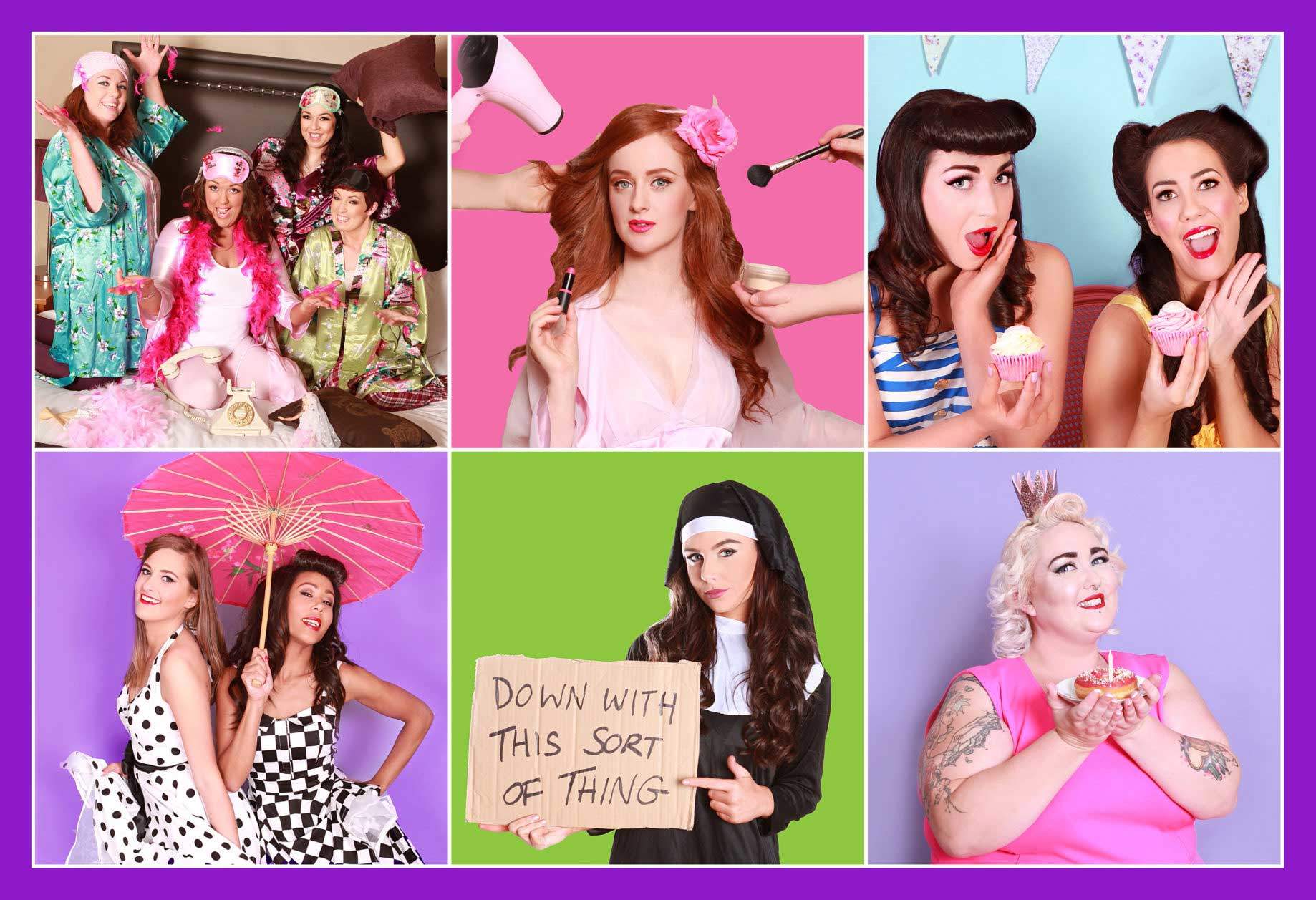 What we do: 
Hen party Activities and Makeovers 
A glamorous  hendo for the bride to be and her squad with lights camera and dress up. 
Themed Photoshoot parties  
Perfect for that girly get together and milestone birthday super glam ! Think Beach party with inflatables, Kardashians, Hollywood , Glitter n Glam or any style you like. This can also be done as a boudoir photoshoot party if wanted with discounts for all on boudoir books if booking as a group. 
Retro Pinup Photography 
We can theme a set for you for Valentines day,  Christmas , Halloween or any theme you can dream up!  Book a fun package at our Vintage Studio or your hotel:  We will  style you like the 1950s pinups with the help of makeup costumes and lighting . We have been turning housewives to hotties since 2009 – costumes  available in all sizes and suits all ages too.  This style of photoshoot can be done in a simple housewife style in retro swing dresses or also in a boudoir photography style if you fancy something super cute or vintage. See our gallery of images for sets available. 
Boudoir Photography 
Bridal Boudoir photography, Valentines Gifts, Milestone Birthday Makeovers  & gifts for the groom from the Bride . Lots of classy sets available in a classy boudoir theme but we also have vintage options available. Can be shot at the Studio or your Hotel. Contact for travel rates 087 6332611
Makeover Photography
We created the concept for fun glamorous and themed hen party photoshoots back in 2009, photographing over 4000 happy ladies and lads along the way too!  Our Photography Studio  specialities include Pinup photography, Vintage eras such as Gatsby and glamorous starlets such as Audrey Hepburn and Marilyn Monroe  . We also love the fun that comes with other hen party themes such as Disney,  Father Ted themed Hen, Hen Audrey Hepburn Hen, 80s Hen,   Boho Hen, Burlesque Hen… the options are endless.  Contact us for fun ideas  – We can come to your venue taking the hassle out of travelling . If you wish us to organise a venue we can do so in Galway city. We have a professional makeup team on hand for  should you wish to have a pampering makeover before your night on the tiles or create the makeup look to suit the theme of choice. 
 Our hen party activity has been awarded  MRS2BE 'Brides Choice' 'Best hen and Stag' provider 3 years in a row  2015/2016/2017 !!   Read our testimonials here
"Thank you so so much for the pictures!! They're fab!! I actually can't stop looking at them 🙂 " L. Hegarty 80's Theme Hen party, The Jameson Apartments, Galway
Minime Photo sessions available 
Boudoir Photography 
Book into our old world home studio for your stunning Boudoir Photography session where you will be pampered and whisked back in time. Our luxury sets are a perfect backdrop for your beautiful boudoir photography book. Discounted rates when you book a hen party with us.
Do you want to know more about Boudoir Photography? Talk to us today 087 633 2611
Boudoir Photography Little Black Book
Little Black Book in Leather effect with 12 images in 5×7 size gift wrapped for you.
The Ultimate gift for the groom before the wedding or an ideal anniversary or birthday present !
My Boudoir Photography session was empowering, it's something I wanted to for a long time but never got around to doing it. Love it and would definitely recommend it. Natalie was great and made me feel totally at ease. Susan 
Take a minute to browse our boudoir photography gallery