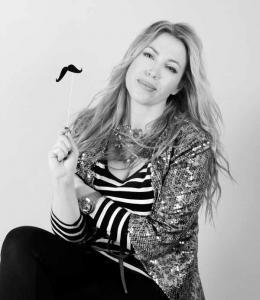 "As a photographer, wife and mother I understand that we as women can often lose ourselves in the rituals of routine and work.  I wanted to create a fun and safe haven to come relax and have your portrait taken.  I work hard to make women look and feel as beautiful on the outside as they are within.  I would love you to see yourself in a different light but most of all I want you to enjoy the process.  As grown ups we tend to get caught up with life and forget the childlike playful part of ourselves! My mission is to make you feel good about yourself leaving my studio and get very excited about the stunning photographs we create together" . 
FAQ
We provide mens shirts , ties, selection of shoes , baby dolls and Jewellery for your portrait but we advise anyone booking to bring the following items:
Two to 3 sets of bra and undies a black and a pastel or white/cream to have some choice.
High heels that you wear – a black pair and a colourful pair if you have especially if they are the coveted Laboutins !  Contact us with your shoe size if you do not feel you have anything to suit.
Significant jewellery (gift from himself/herself ) , a tie or shirt or anything you think would be fun to make the shoot more personal to you or your partner.
If we are shooting bridal boudoir for you then you can also bring along the bridal lingerie you will be wearing the day of the wedding and your wedding heels.  We will supply a veil for posing here at the studio we have long and short ones.  If you do not have a bridal set then a  cream or white set is just fine.
Please allow 3 weeks max time for your book to completion – contact for rush orders.
For our signature Hen party photoshoots we provide  a good selection of props and costumes to help style your group to perfection. With the help of great posing , lighting and music we will have you working that lens and having belly laughs in the process !! This is a great icebreaker for a group and suits all ages and sizes.
Please note our standard Henparty packages are more themed in Retro and Hollywood styles not  lingerie style boudoir shoot but feel free to ask us if you would like a group boudoir session as this can be arranged too with discounts for all .